From SFMTA: Twin Peaks Tunnel will close next week for two months. Information and links for everything you need to know.
As you may already be aware, construction on the Twin Peaks Tunnel is expected to start on June 25 with a continuous closure of the tunnel for approximately two months.  Work will be 24 hours a day, 7 days a week. During the closure:
Forest Hill and West Portal stations will be closed,
The K Ingleside will travel on a shortened route
Bus service will run for the L Taraval and M Ocean View lines.
Nx buses will not operate during the closure, but additional N Judah trains will be in service.
See below for map of changes.
With 100 years of service under its belt, Twin Peaks Tunnel needs extensive work to its interior to continue to operate safety and reliably for years to come. This vital part of our transit rail system connects Castro Station to West Portal Station and serves over 80,000 K Ingleside, L Taraval and M Ocean View customers every day.
The tunnel's infrastructure, including the tracks, walls and drainage systems, must be maintained in a timely manner to keep up with the demands of the Muni system. Twin Peaks Tunnel is currently under a speed restriction, which slows down trains as they travel through. Replacing the tracks will lift the tunnel's speed restriction and keep trains running reliably through the system. Seismic reinforcements will better protect the tunnel's overall structure and stability.
To help Muni customers get around during the closure, a video with map animations highlighting temporary stops, transfer points and alternative routes can be found online. In addition, a comprehensive rider guide in English, Chinese, Spanish and Filipino is available to view or print on our website. 
Map of Changes Beginning June 25 for two months: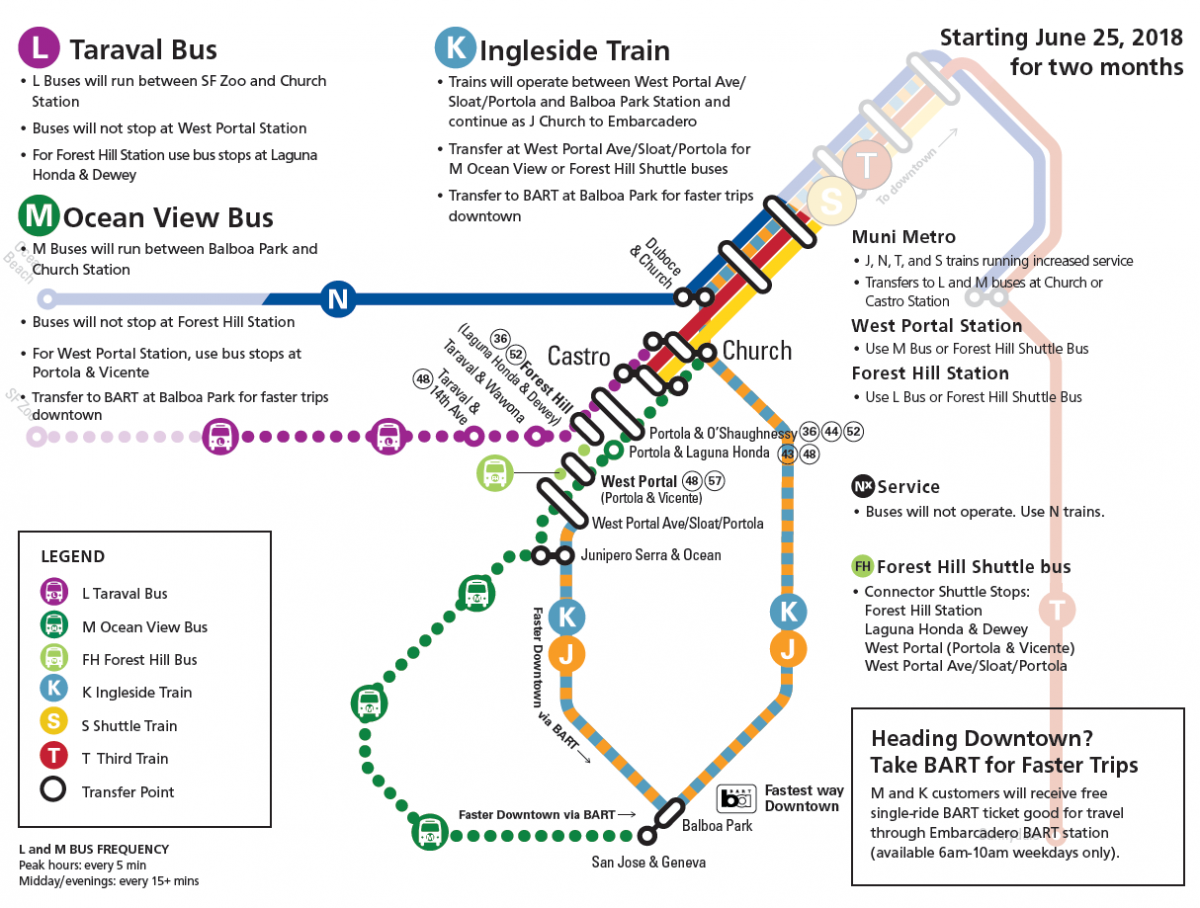 More information and details can be found at SFMTA.com/TwinPeaks